Porter Valley
From TransitionSheffield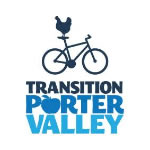 Welcome to the Porter Valley Transition Site
This site is for people in the Porter Valley who want to get a local Transition group going. We are currently doing lots of stuff in the S10/S11/Porter Valley area of Sheffield - from growing more fruit and vegetables locally, to awareness raising of the problems with relying on fossil fuels, and getting to know lots of people from all different backgrounds and interests who live in this area. This is a very new group, and we would love to hear from you!
Sign up to the Porter Valley email list to receive details of activities and events as they start to happen
Start discussions and join in debate on all things Transition in the Porter Valley on our own Forum . You will need to register or log in to post messages
Why not send us an email at porter-valley@transitionsheffield.org.uk with your ideas, or just to say hi.
Best wishes
TPV
---
LATEST NEWS: MEETING Monday 4 April @ 8.00pm in The Psalter Tavern pub. To discuss anything you would like to discuss. All welcome.
WOW! We now have our own Discussion Forum on this site. To see it click here . You will need to sign in or register to post or reply to threads.
The first draft of the TPV Car share strategy is available here for you to read and comment on [[1]]
Also, look out for TPV on Facebook! Thanks to Meg for setting this up.
This weeks events at TPV - see the full calendar for the next twelve months here.
<calendar> name=mycalendar view=week </calendar>
---
What is 'Transition Porter Valley' exactly?
First of all, Transition Porter Valley does not come from any organisation, political party, or belief system. It's for anyone living in the S10/S11/Porter Valley area.
'Transition' is all about local people finding creative, practical, positive solutions to the problems caused by our current complete reliance on fossil fuels (oil, coal, and gas).
As well as being by far the biggest cause of climate change, fossil fuels are running out very fast as we all consume more and more energy. Our local, national and global economy is going to have to adapt quickly to these new realities.
A 'transition' approach uses the diverse skills and abilities of everyone in the community to make the changes we need in order to meet these challenges - both now and in the future.
To see a great example of how Transition can work, see the website of 'Transition Town Totnes'