Heeley-Meersbrook
From TransitionSheffield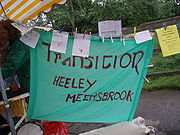 Welcome to the home page of Transition Heeley/Meersbrook, for the latest news and discussions see the email list which you can join by sending a email to meersbrook-heeley-request@lists.transitionsheffield.org.uk with subscribe in the subject line, the archives are available for anyone to read.
We can be contacted at heeley-meersbrook@transitionsheffield.org.uk.
A full list of the Transition Heeley/Meersbrook pages on this wiki can be found on the Category:Heeley-Meersbrook page.
Spring Events
Transition Heeley/Meersbrook — Events in February – March 2010
Please download the A4 and A5 versions of the flyers advertising these events, print them and pass them on!
Sharrow Lantern Carnival workshops
Saturday 27th February, 6th, 13th, 20th, 27th March, 3rd April 12-4pm
10th April 12-2pm (finishing off and flag making)
11th April 6-8pm lantern collection
Come and join in making a set of 'ten green bottle' lanterns for the Sharrow Lantern Carnival (takes place on 11th April).
A hands-on, child-friendly activity.
More info: http://www.creativeaction.net/
At the Old Junior School, South View Road, Sharrow
Consensus Decision Making Workshop
Friday 26th February 2010, 11am to 5pm
A free training workshop in effective decision-making, for all potential members of Transition Heeley/Meersbrook's new Community Supported Agriculture project.
More info: Hazelhurst CSA Consensus Workshop
The Board Room, Aizlewood's Mill, Nursery Street, S3 8GG
Transition Crafts
Saturday 13th March, 1-5pm
Jewellery-making, seedling planting, banners, arts and crafts with skilled helpers for all ages.
Grapevine Centre, Church of the Nazarene, Northcote Road, Heeley
Transition Sheffield Social
Tuesday 16th March, 7-11pm
'Sheffield Green Drinks' invites Transitioners and friends to a Sheffield-wide get-together with drinks and music.
The Riverside Café, 1 Mowbray Street, S3 8EN
Feeding the Five Hundred Thousand - The Future of Food for Sheffield
Saturday 20th March, 10-4pm
Exploring the future of food in our city.
More info and registration at http://www.feeding500k.eventbrite.com/
Centre in the Park, Norfolk Park
For more information about any of these events contact: heeley-meersbrook@transitionsheffield.org.uk
Community Supported Agriculture and Local Food Initiative
The main current project of Transition Heeley/Meersbrook is the Hazelhurst Community Supported Agriculture Co-operative, but there are also some local projects, the Transition Heeley Meersbrook Diggers Allotment Group and Heeley-Meersbrook Local Food Initiative events.
For the latest Transition Heeley/Meersbrook food related news and discussion please join the Meersbrook-Heeley-Food email list, by sending a email to meersbrook-heeley-food-request@lists.transitionsheffield.org.uk with the word subscribe in the subject line. This list has an archive that anyone can read.
Aiming for a Sustainable Heeley/Meersbrook
The meeting on 13th January 2009 discussed the aims and guiding principles of the group.
Draft Aims
We aim for healthier, happier, inclusive, creative and resilient communities, free from dependence on fossil fuels. We are motivated by the challenges of climate change and the energy crisis to engage as many people and communities as possible in Heeley/Meersbrook in the transition to a sustainable society.
Draft Guiding Principles
We embrace the following as guiding principles for our working processes

Being inclusive and open, avoiding all forms of discrimination, avoiding stereotypes, and reaching out to others to overcome divisions
Working in ways which empower others, by supporting consensus decision making, decentralising decision making to the most appropriate level, helping others to access good information, trusting them to make good decisions, and enabling sharing and networking
Building resilience (the ability to be self reliant, flexible and to adapt under stress)
Generating positive ideas and open possibilities rather than campaigning against things
Paying attention to inner world views and belief systems as well as external physical processes i.e. understanding the importance of attitudes and feelings as well as actions
Visions for 2030
Archive
Old items from this page have been moved to the Heeley-Meersbrook Archive page.