Heeley to Hazelhurst Walk
From TransitionSheffield
Hazelhurst CSA > Heeley to Hazelhurst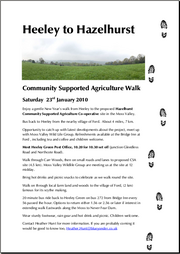 Heeley to Hazelhurst CSA. Walk Saturday 23rd January 2010
Printable A4 flyer: Media:Heeley to Hazelhurst CSA walk.pdf
Enjoy a gentle New Year's walk from Heeley to the proposed Hazelhurst Community Supported Agriculture coop site in the Moss Valley. Bus back to Heeley from the nearby village of Ford. About 4 miles, 7 km.
Opportunity to catch up with latest developments about the project, meet up with Moss Valley Wild Life Group. Refreshments available at the Bridge Inn at Ford , including tea and coffee and children welcome.
Meet Heeley Green Post Office, 10.20 for 10.30 set off (junction Gleedless Road and Northcote Road)
Walk through Carr Woods, then on small roads and lanes to proposed CSA site (4.5 km). Moss Valley Wildlife Group are meeting us at the site at 12 midday.
Bring hot drinks and pic nic snacks to celebrate as we walk round the site.
Walk on through local farm land and woods to the village of Ford, (2 km) famous for its scythe making.
20 minute bus ride back to Heeley Green on bus 272 from Bridge Inn every 56 passed the hour. Options to return either 1.56 or 2.56 or later if interest in extending walk Eastwards along the Moss to Never Fear Dam.
Wear sturdy footwear, rain gear and hot drink and picnic. Children welcome.
Contact Heather Hunt for more information. If you are probably coming it would be good to know too, Heather.Hunt@blueyonder.co.uk.